Back to Store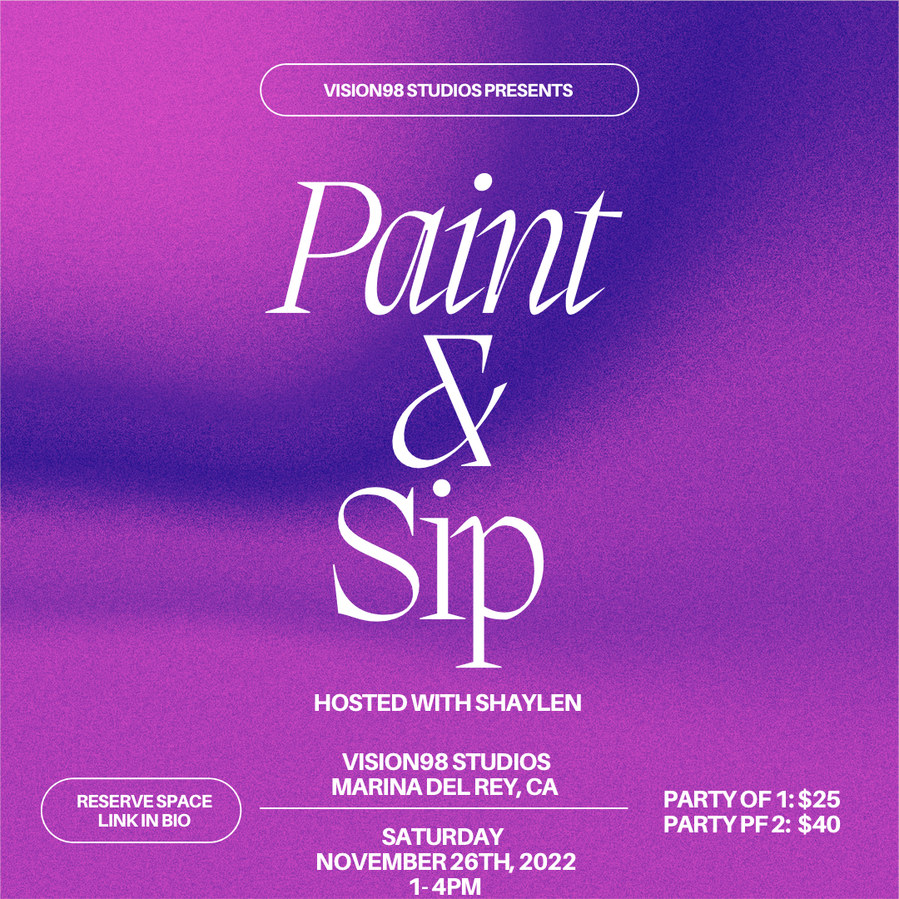 Paint and Sip/ Puff Led by Shay- Party of 1
$25.00 USD
Welcome to our workshop series! Where we bring in some of our favorite artists to share a bit of their creative practice with you! Spend your Saturday afternoon at Vision98 Studios sipping your favorite wine, and creating a masterpiece with the guidance of the masterful Shay.
Date: Saturday November 26, 2022, 1-4 pm
Location: Vision98 Studios, Marina Del Rey California
All painting materials will be provided!
Canvases, paints, brushes ect.
BYOB/ BYOW
Fun vibes and creative energy
About your instructor Shay: Shaylen Nelson is an emerging artist from South Central Los Angeles. While studying at UC San Diego, he developed a strong interest in creating works that critique the contradictory social landscape within America. Whether it be challenging the socially ingrained ideas of masculinity and femininity, making a statement on the commercialization of African bodies, or bringing to light the strong cultural influences through varieties of media, Shaylen always has the goal of having the viewer look at these situations with a new lense. Besides his passion for reflecting the social dilemmas in America, he also simply loves to showcase African figures in his work. Where traditionally, African people were very rarely featured in Western Art, particularly within the medium of oil paint, he counteracts this history with African figures and culture being prominently shown. As a graduate from UC San Diego with a degree in studio art, Shaylen now has the goal of expanding his social art series and exhibiting it within galleries and museums. He continues to influence people through his art, most notably through social media. And more than that, he is eager to start his career as a freelance artist, ready to unveil the ideas and projects he has for the world.
https://www.artbyshay.me/